Guaranteed Removals Scholarship Program
In today's digital age there is an increased risk of cyber bullying and cyber stalking due to misuse of information sites and social media platforms. Our scholarship program aims to inspire and help students become future leaders and activists in creating a safer digital space, by breaking down the barriers that prevent them from entering these fields. We encourage students to follow their passion for helping others in cyberspace, that's why we are offering scholarships to students attending accredited Canadian and American colleges and universities.
Guaranteed Removals is offering five scholarships of $1,000 (USD/ CAD) each. Students who have been accepted to an accredited college or university in North America, and are studying in the field of criminology, law, computer science or law, are invited to apply. We encourage students studying cybersecurity, as well as women in tech to apply, as both of these fields are in need of talented professionals.
To apply, simply complete the online registration form, upload proof of enrollment and submit a 400 word description of what you plan to do with your degree after graduation.
*Scholarships are open to undergraduate students, including those entering their first year.
Scholarship Application Deadline
Our scholarship program is accepting applicants until September 15, 2020. We will announce the five winners by October 1, 2020.
Guaranteed Removals Announces Scholarship Winner
GR congratulates Marco Polimeni of Bartonsville, Pennsylvania on winning the annual $5,000 academic scholarship.
Guaranteed Removals Launches $5,000 Annual Scholarship Program
GR is proud to announce an academic scholarship for students attending an accredited college or university.
Five Students Receive Scholarship To Help Change The Cyber World
Five students have been chosen to receive GR scholarships for their efforts in helping making online communities safer.
Guaranteed Removals Scholarship Winners
Congratulations to our Guaranteed Removals scholarship winners. We wish them the best of luck in their studies and helping to improve online communities.
Dominika Wojtowicz, Illinois, U.S.A
Phillip Pham, Ontario, Canada
Patrick Vaughan, Ontario, Canada
Christopher Langlois, Ontario, Canada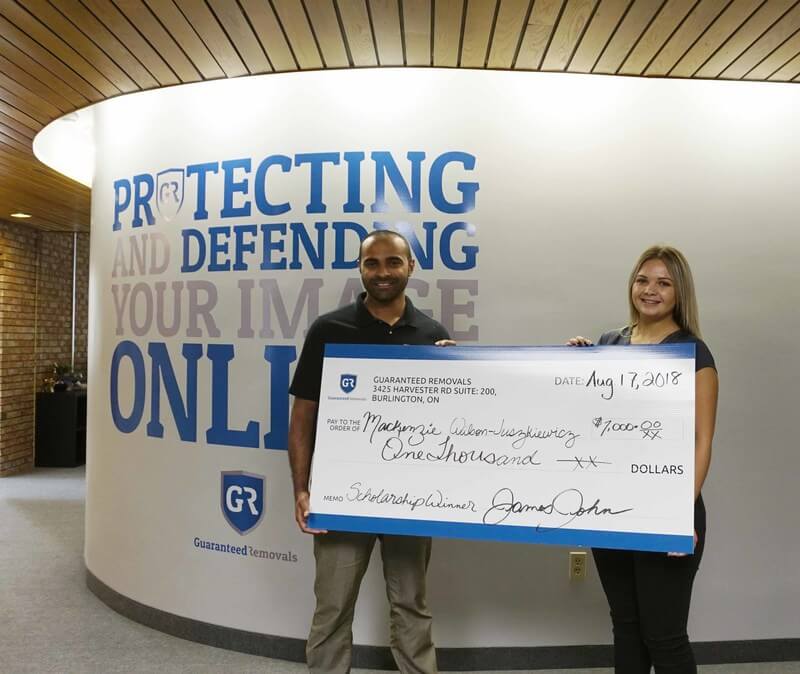 Stay Updated with the latest Guaranteed Removals news